SEE HOME PAGE SCROLL FOR LATEST NEWS

23rd December 2010 - Roger Bevan Update

2nd December 2010 - Message from Jane May

25th November 2010 - Eric's Funeral Service

25th Nov 2010 - Letter to JANE MAY

23rd Nov 2010 - ERIC'S FUNERAL

15th Dec 2010 - THE COLLECTION FOR ERIC MAY IS CURRENTLY £265
This is excellent but we can still do better
12th Nov 2010 - A really sad day for all of us who knew and loved Eric.
E-mail Steve if you want to add a message to the Book of Condolences for Eric. (click icon below to view messages.) .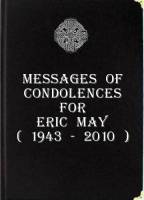 28th Oct 2010 - Fulton Block in Autumn
25th Oct 2010 - Ralph McLeod pitches up
19th Oct 2010 - Breaking News - RAF Cosford Saved
18th Oct 2010 - Chris Pressling pitches up

11th Sept 2010 - Teleg Memorabillia - RAF Form 146

25th June 2010 - Kalitta Air June News Magazine (from Mike Young 4 Sdqn)

6th June 2010 - 40/50 Coasters for Sale

Thursday 3rd June 2010
Fresh hope for Cosford (Shropshire Star)
2nd June 2010
Kalitta Air May 2010 News Magazine (from Mike Young 4 Sdqn)
Friday 26th March 2010
So you thought Cosford was bad ???
Wednesday 17th March 2010
Mike Youngs Visit to Sharjah
Tuesday 16th March 2010
Cosford Plans Shelved
Tuesday 16th March 2010
Units Lodging at RAF Cosford over the Years
RAF Cosford's 1st Station Commander and a very tragic ending ...

Ex 37th Entry B/E Elected Mayor of Preston
Sunday 7th January 2010
Sadly, I found this announcement on the RAF News website. Eric was the parade commander on the 35th Graduation parade.
Steve
"BOWDEN Eric, 35th Cosford Entry Boy Entrant of Muxton, Telford, aged 67. Passed away December 24 2009. Devoted husband to Margaret and loving Dad to Melissa, Sharon and Russell. Adored Grandpa to Laura, Jason, Danielle, Jenna and Emily and great- grandpapa to Evelyn. Forever in our thoughts."
***********************************************
HELP - 28th December 14:30hrs - SITUATION RESOLVED
I just received a 'phone call from Dave Cutbush. He has been contacted by Fl. Lt. Letchford's daughter. Fl Lt Letchford was killed in a Shackleton crash back in 1967. She would like a copy of the 4 Sqdn graduation photo'. Has any one got an original in 'mint' or very good condition that could be copied? If anyone can help please contact Dave or myself
***********************************************
NEIL (GEORDIE) PATTISON (4 Sqdn)
Pictured here on 18th December 2008. Outside Fanueil Hall in Boston with his USA naturalization certificate.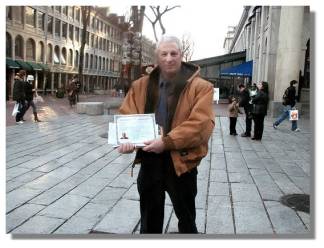 Congratulations Geordie